Easter is 3 weeks away, so I am sure you are all gearing up to unpack your decorations and makeover your homes with Easter goodness, right? Wait… You mean you don't have any Easter decorations? Luckily, it's not too late to pull some together. Since many of us may be lacking in this area, today's post features 5 ways to decorate your home for Easter.
1. Yarn Egg Wreath
Trisha from The Sweet Survival created this yarn egg wreath by winding yarn around small and large plastic eggs. A lot of hot glue later, she ended up with this springy, fun wreath for her door!
2. Easter Silhouettes
Tatum from Keep It Simple, Sister created these Easter silhouettes with silver trays she bought at the dollar store. I love how she combined the rectangular and oval platters and various paper patterns and colors. Very chic! (Sorry, I couldn't resist!)
3. Fabric Egg Platter
Looking to put some of that scrap fabric that is piling up to   good use? Kim from Retro Mama made these gorgeous fabric eggs using scraps she already had on hand. She was inspired after she bought this lovely wire cake platter from Target. I love the fact that you could coordinate your Easter décor to your living area by using leftover fabric from previous projects such as throw pillows or curtains.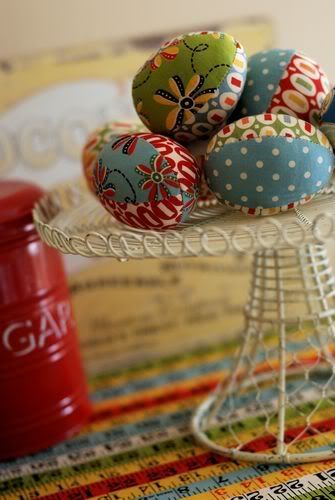 4. Easter Egg Tree
So we've all heard of a Christmas tree. Why not an Easter tree? Hostess with the Mostess featured this Easter egg tree made by reader Virginia Bell using sisal eggs hung on Japanese tulip branches she bought at Hobby Lobby. What a perfect way to bring beauty and elegance to your table this Easter!
5. Jellybean Topiary
Abbi from My Garden of Eden created topiaries by gluing jellybeans (yes, real jellybeans!) to foam balls. Seriously, how cute are they? With two kiddos under 5, my topiaries would probably end up with a few missing beans!
How do you add some Easter flair to your home?
Thanks for visiting "5 Ways Saturdays!"